Restore
Since a days ago you can download Restore here on itch.io. Also I launched the game on Gamejolt and IndieDB, so I have any thoughts that share with all of you.
Restore Release Trailer

Sincerely, I expected a poor reception regarding the number of views and donwloads in general, in the three sites, but I don't expected it was going to be so poor, even so i'm not surprised. In the present moment the number of downloads, adding the three sites are not too much than 25. But this numbers has some twist.
First of all, the site that more views gives to the Restore page is indiedb, with more than 300 when I'm writing this devlog. I understand why, being honest indiedb has less global visits than pages like itch.io. But I prefer the how the games are exposed on indiedb, because in this site the game visibility is superior to the visibility on itch.io or gamejolt. I love how any game has the same opportunities to appear in the front page, just you have to write a article (and be aproved too). In the same way, every update in the game page makes this appears at just one clik, in the tab "games". This is different on itch.io or gamejolt. In this pages the visibility is only a popularity issue, in this way, the new games quickly go to a hole full of hundreds of other games.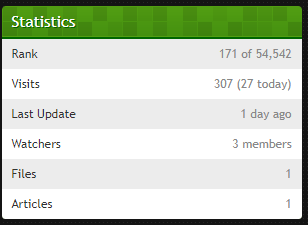 Nice stats (compared with other sites)
But while indiedb wins in views, loses in downloads, with just one until yesterday (rarely 3 more today, without any update since yesterday). I'm really surprised about this and I hope that this article reverse the situation. While on itch.io and gamejolt the percentage of downloads vs views is about even 20-25%, on indiedb today has been 27 views and 3 downloads, only a 11.11%, yesterday the percentaje was even worst. Curiously I'm very sure that all or most of 4 first downloads on itch.io are caused by users of indiedb.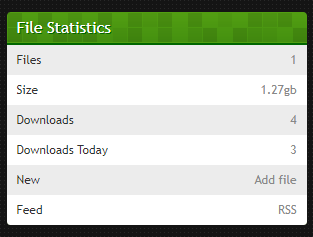 (Not so) nice stats :(
I knew that Restore was going to be a game with a low number of downloads. Is a small game developed in just two and half weeks, one of many games, one of a plethora of them that every day appear in the indie games sites. I don't feel special, I am not a celebrity and, why not, is very possible that my game don't be a good game, and not too funny. I was convinced that the game would attract attention with its art and I'm sure that most of downloads has being motivated by this reason. But the downloads are too low.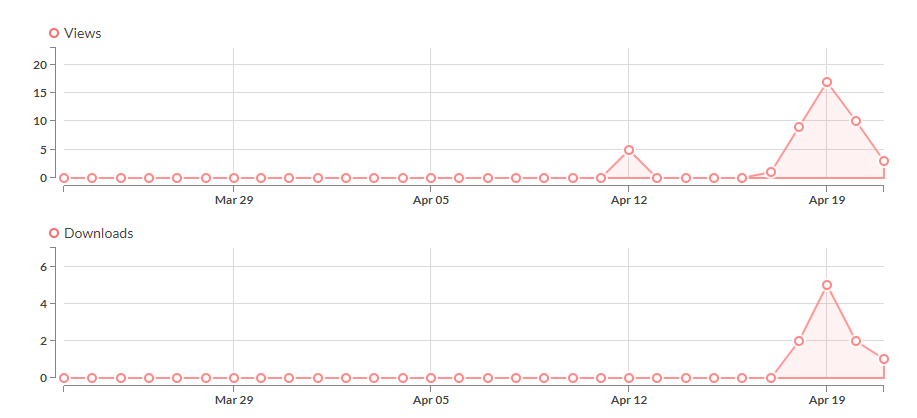 Itch.io stats, look how similar are the downloads and views pyramids
When I'm saying that downloads are "too low" means that word to mouth don't works enough to make game download by itself, without my efforts to make it known. In the same way, is really complicate with less than 30 downloads that someone plays the game in his youtube channel or write an article in a blog or a twit on twitter.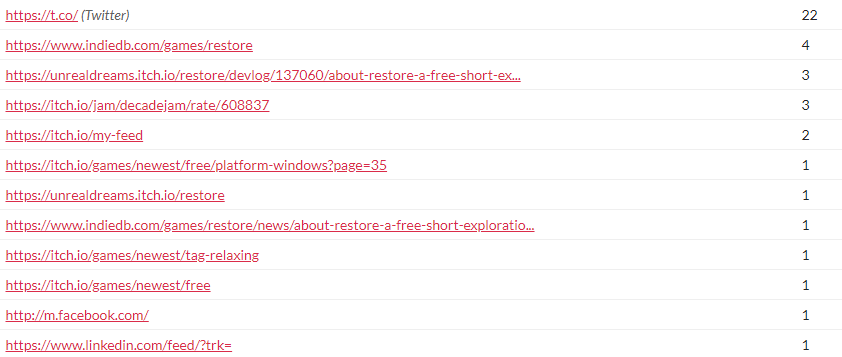 As we can see, twitter is a nice tool to get visits, ate least on itch.io, not linkedin or facebook in this case
Really I don't care if this game gone to be known or not, Restore has supposed just two and half weeks of my life. But I'm dissapointed if I don't have critics about the game. If I don't have any kind of feedback, then this game means nothing for me and my game design capabilities.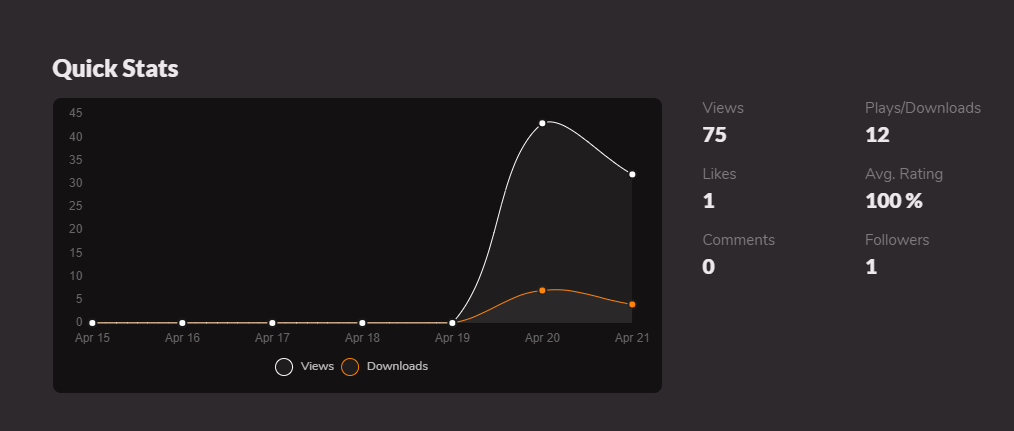 Gamejolt stats are nice too, without advertising except one twit
But the most important of all, to some extent the results of the "marketing campaing" of this game can be extensible to the possible results of the campaign of a game with more efforts of my part. I don't have money so I can't pay a marketing campaign, in some way I can use only the same ways to make known a small game than a big game. Yes, it's true that Restore has been barely known after the release because was created in just two weeks. It's true too that presumably a more long in time development would have a more "professional" finish. But I have the same marketing limitations so, in some way, this game is a experiment useful to me about my boundaries of the marketing campaign on social networks.
So, I'm now a bit more worried about the possible failure of my first future paid game (surely Call Me Nobody), this is a negative thinking, yes, but I have learned too with this failure. So I wait that I'm now more experienced than before that I made Restore. Now I'm more concious about the importance of create more community around my game, about to create a more constant campaign of markenting along the development of the game. And of course I need to make a extra effort to make a entertaining game.
Files
Restore 1.0 FULL GAME
1 GB
Apr 17, 2020